Belo Village lot Cameroon
Belo Village lot Cameroon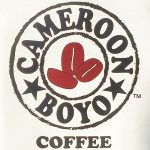 The Cameroon Boyo
Belo Village
Taste:   Creamy Dark Chocolate with Walnuts and Honey
Processing: Semi-washed
Altitude: 1200-1400 masl
Varietal: Typica & Java II
Relationship: Friend
Price: €8,00 per 250gr
Along a mountain ridge to the north from Bamenda lies the Boyo region of Cameroon. German colonists are the original importers of coffee into the country beginning in the early 1900s. The Typica variety is a clone of the famous Jamaican Blue Mountain coffee and the Java variety is more recently introduced.
Belo is a village enrolled in the "Circle of Excellence" program introduced by Cameroon Boyo. This project helps to create small, high quality lots and direct access to roasters. Cameroon Boyo offers support to each step of the growing and processing to guarantee the quality of each lot and sustainable growing practices.
The Belo village is a relatively new group working together with Cameroon Boyo.  They feature their own washing station, thus giving them control over their processing power and the quality therein.