Lo De Silva Guatemala
Lo De Silva Guatemala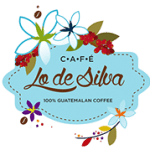 Guatemala
Lo de Silva
Taste:   Dark Chocolate with a red fruit and a lively acidity
Processing: Washed
Altitude: 1700 masl
Varietal: Catimor, Caturra and Pache
Relationship: Importer purchased, Neighbor of a Friend
Price: €8,00 per 250gr
Lo de Silva, managed by Denisse Abrego and Jesús Ramos; is a neighboring farm of Las Delicias, who introduced them to The Coffee Quest. I do not have a direct relationship with this farm, but that is something I intend to change in the coming period.
Instagram feed below
(Please note. I do not own any of the content and take no responsibility for what's published)
Cannot get other user media. API shut down by Instagram. Sorry. Display only your media.