Las Delicias Guatemala
Las Delicias Guatemala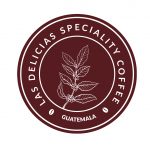 Guatemala
Las Delicias
Taste:   Dark Chocolate with a green apple acidity and apricots.
Processing: Washed
Altitude: 2000 masl
Varietal: Catistic
Relationship: Friend
Price: €8,00 per 250gr
Manolo and his family own and operate Las Delicias in Palencia, Guatemala. Manolo's family has been farming coffee for generations, but due to unsustainable coffee prices Manolo's father had to abandon the farm in the 90s. Manolo departed for the US for work to raise money to replant the farm. In 2016 they had their first commercial crop. I was lucky enough for Manolo to send me a sample to evaluate the quality. I found it very enjoyable and shared the retainer with The Coffee Quest who helped to bring the first lots into Europe.
Manolo is dedicated to an environmental production and is busy stepping over from conventional farming practices (pesticides, fertilizers, and all of that good stuff) to organic soil management farming techniques.  A story about his efforts has been featured in The Perfect Daily grind, which you can read here.
Instagram feed below
(Please note. I do not own any of the content and take no responsibility for what's published)
Cannot get other user media. API shut down by Instagram. Sorry. Display only your media.